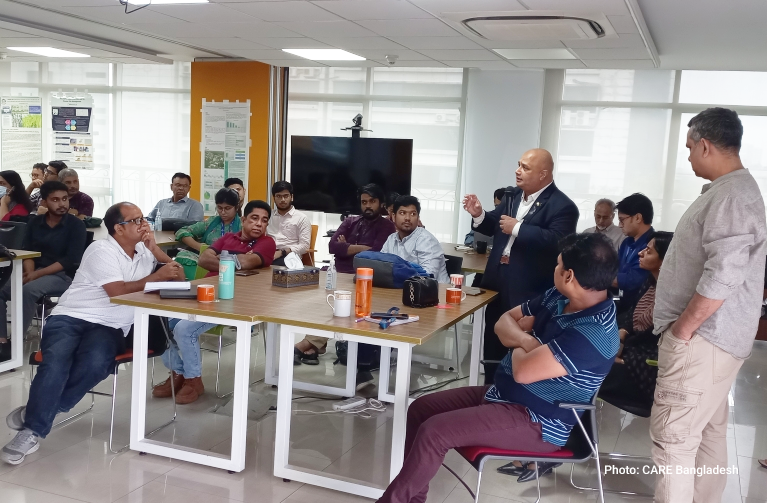 On August 8, 2023, the Innovision Team participated in a stakeholder consultation session titled "Innovation for Green Humanitarian Action and Climate Adaptation." Organized by CARE Bangladesh, the event brought together diverse stakeholders committed to fostering innovation and climate adaptation.
The primary focus of the event revolved around a collaborative group session, during which participants collectively brainstormed the intricate challenges spanning technical, financial, gender, and social inclusion aspects encountered by innovators and their supporters. Representatives from various organizations such as Social Innovation Lab, Easy Sense, Planet X, Footsteps, International Centre for Climate Change and Development, Coastal Agro Business Limited, and Innovision Consulting contributed their insights on the two central themes of the event: green humanitarian actions and climate adaptation. Through the pooling of collective creativity, participants collaborated to pinpoint robust solutions aimed at overcoming these challenges.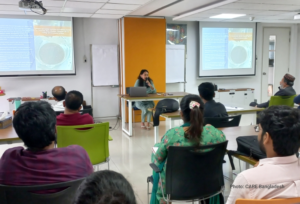 In attendance were Khondkar Morshed Millat, the Lead Consultant of Innovision's Green & Sustainable Finance Initiatives, and Raisa Binte Hossain Aurin, a Research Associate within Innovision's Economic Growth Portfolio. Raisa highlighted and discussed several notable Innovision projects, encompassing a waste-to-energy initiative, a seaweed value chain development project, technical assistance in the realm of green finance, a pilot project converting methane to fish meal, and an adolescent leadership endeavor. Khondkar Morshed Millat shared his insights on sustainable financing and its important role in the fight against climate change.
Throughout the event, the significance of collaboration consistently emerged as a recurring theme. The seamless synergy among innovators, fund providers, facilitators, researchers, and management experts emerged as a pivotal driving force behind transformative innovation.