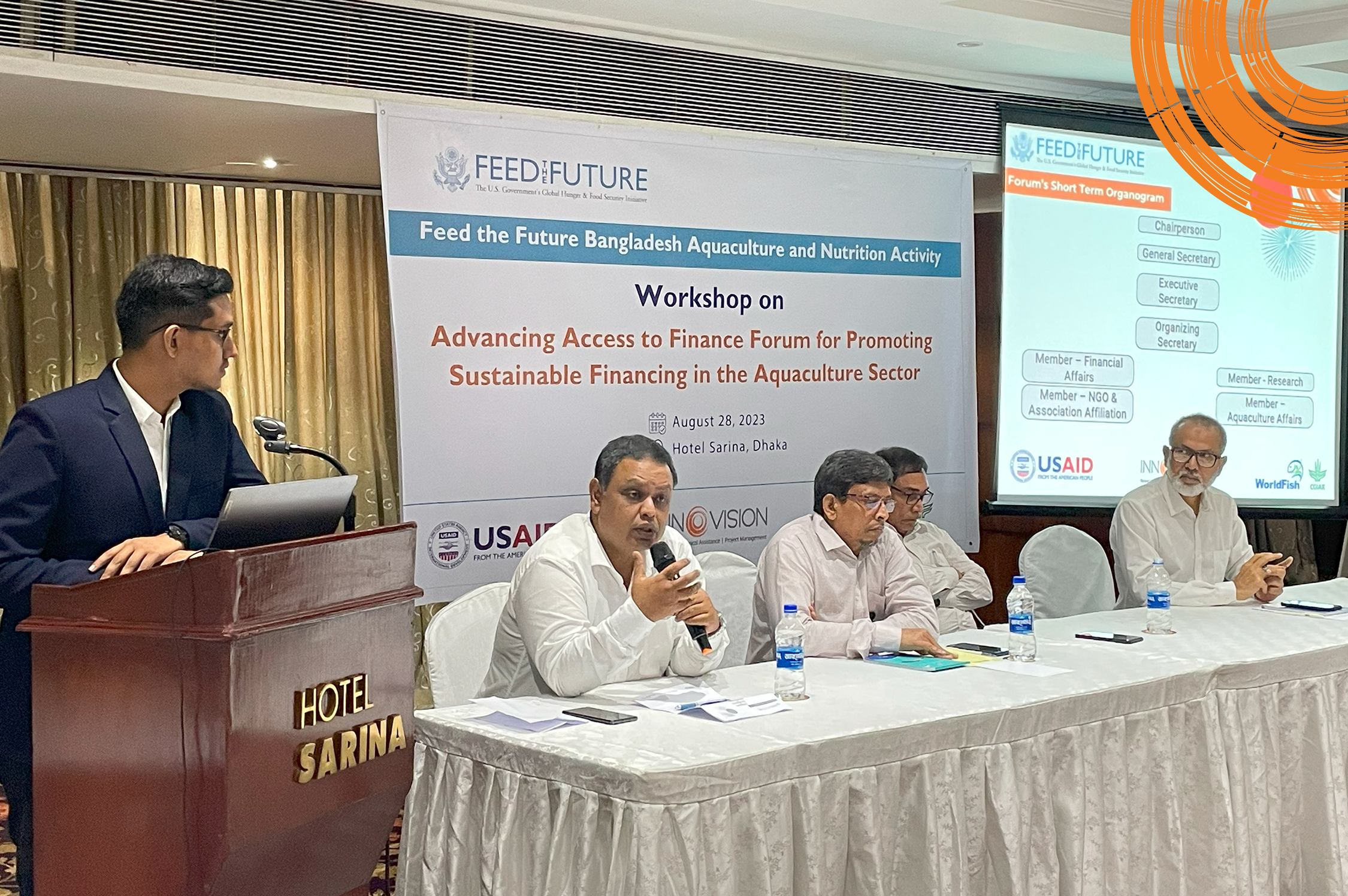 Innovision Consulting and WorldFish CGIAR Bangladesh have joined hands to establish a platform aimed at enhancing financial access within Bangladesh's aquaculture and fisheries sector. As a part of this initiative, a dissemination workshop was convened on August 28, 2023, at Hotel Sarina in Dhaka. The workshop drew the participation of various stakeholders, including representatives from the aquaculture farming community, the Department of Fisheries under the Government of Bangladesh, the Bangladesh Aqua Product Companies Association (BAPCA), Chemonics, BRAC Bank, Bank Asia, farmer, Eskayef Pharmaceuticals, TMSS, Sushila, BRAC, UPAY, and other key stakeholders in the field.
Inadequate access to financial resources has long hindered the growth of Bangladesh's aquaculture sector. The Aquaculture Forum for Access to Finance aims to bring together diverse stakeholders from the aquaculture and financial sectors to facilitate the sector's expansion. Furthermore, the forum is set to promote financial literacy by ensuring access to information regarding financial packages and pertinent policies in aquaculture financing.
During the event, Md. Badrul Hassan Babul, the Lead Consultant of the project, presented the forum's impact pathway, a strategic blueprint designed to drive positive change and sustainable growth within the sector. Syed Md. Alamgir, a Principal Scientific Officer at the Department of Fisheries, acknowledged the forum's role in addressing the financial access challenges confronting the aquaculture sector. Dr. Manjiro Karim, the Chief of the Party for USAID's Bangladesh Aquaculture Activity within WorldFish CGIAR Bangladesh, elucidated the forum's objectives and its potential to revolutionize the sector. Abdul Kadir Tarafder, a spokesperson for aquaculture farmers, emphasized the forum's pivotal role, particularly in Dhaka, as it facilitates communication with government authorities and other pertinent parties. N M Shahriar, an Associate at Innovision Consulting specializing in Inclusive Financial Solutions, provided insights into the project's progress and accomplishments.
The conference served as a dynamic platform for stakeholders to engage in discussions about the challenges facing the aquaculture sector, with a view to ensuring that financial services are accessible to all key actors in the aquaculture market, including farmers, nurseries, hatcheries, dealers, and retailers. A robust and sustainable forum also has the potential to attract investment into the sector leading to its growth.