Acronis Backup & Recovery provides backup and disaster recovery for laptops, desktops or servers and is designed to meet the needs of small businesses with no or limited IT staff.
Backing up quickly and easily
Image backup or snapshot of the entire system in a few clicks with support for bare metal and individual file recovery.
Application support
Backup and restore Exchange, Active Directory, SQL, SharePoint, Oracle and other application servers.
Any return of equipment
The image can be restored to bare metal in minutes; and with Acronis Universal Restore, even on different devices.
Acronis Cloud Storage
Protect yourself from major disasters, such as floods or fires, by backing up to the cloud.
How long can you live without your data?
Do you expect growth? No problem! When you're ready to upgrade, there's a simple, straightforward way to upgrade to our comprehensive system that brings you unified managed backup and disaster recovery across physical, virtual and cloud environments.
Only for BootCD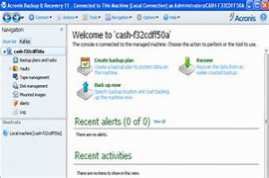 50
5
User Rating
Acronis Backup & Recovery 11.5.37608 Server for Windows Stan torrent download