Date: To be fixed in Consultation with the client
Duration: 3-day Physical Residential workshop along with 12 hours of post training online follow-up support
Location: To be fixed in Consultation with the client
Language: English
Course fee: USD 9,500 (Capped at 20 participants)
Introduction to the course
Professionals working in Market Systems projects are required to facilitate systemic solutions that are expected to be commercially viable, sustainable and scalable. These are often done through private sector firms. Connecting the private sector's business motif to the social and development goal in a simple business model often becomes a critical design challenge for a market systems facilitator. This training is designed to facilitate market systems projects to design business model canvas for their planned, proposed and ongoing interventions as a tool to facilitate scalable and sustainable solutions.
Training Outcomes
Development of 3-5 Business Model Canvas interventions for ongoing, planned or proposed interventions
Trainees learn to apply BMC in different sectors and contexts as per their professional and organizational development plan- sectors we cover includes- agriculture, skills, finance, low-income housing, WASH, nutrition; cross cutting themes we cover includes- climate change, gender. We work on both fragile context and matured or progressive market systems
Participants will be able to develop the BMC both individually and as a team
Participants will learn how to fit BMC in the process of market systems facilitation and with other Market Systems Development Tools
Who should apply
Organizations INGOs, consulting firms, foundations, civil society, private sector, engaged in implementing market systems projects
Multilateral and bilateral agencies and private foundations funding market systems projects
Who should participate
Professionals having a minimum of 2 years' experience in market systems
interventions
Professional having foundational knowledge on market systems approach and value chain development
Professionals working in agriculture, skills, finance, low-income housing, WASH, nutrition sectors as well as cross-cutting themes like – climate change, gender, producer group development and refugee response
Training Content
The framework and construction of BMC
Application of BMC in market systems and inclusive business solutions
Workshop – Developing Business Model Canvas for selected cases
Planning- From design to implementation to monitoring of business model canvas for market systems interventions
Connecting BMC to impact targets of the project
Typical challenges and solutions to adapting BMC to market systems interventions
Course Fee
8,500 USD for a group of 5-10 participants.
9,500 USD for a group of 10-20 participants.
What the course fee covers
Team based training
One on one consultations with the trainer during the training
12 hours of online post-training follow-up
Full course training materials will be provided in soft copy1
The course fee does not cover
Travel cost of the trainer
Accommodation and per diem of the trainer
Refreshment and training venue cost should be borne by the client as per their discretion.
1 Innovision Consulting does not provide hard copies of documentations or materials as it is a part of our carbon reduction strategy
Trainer's Profile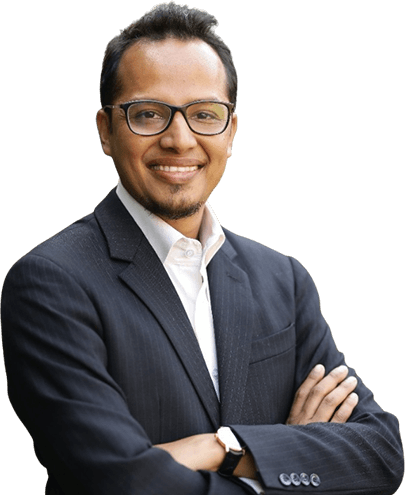 Md. Rubaiyath Sarwar is the Managing Director and Lead Consultant of Innovision Consulting, an international development consultancy operating from Bangladesh, Nigeria and United Kingdom. He is also serving as the elected Chairman of the Value Chain Capacity Building Network (VCBN) for Asia and the Pacific. Rubaiyath specializes in systemic and inclusive solutions for extreme poverty, livelihood and enterprise development programmes. He has 18 years of experience as a technical lead on market
systems analysis, market systems intervention design and
facilitation and evaluation in agriculture, industries, health, WASH, low-income housing, nutrition and finance in Bangladesh, Cambodia, India, Indonesia, Myanmar, Mozambique, Nigeria, Philippines, Vietnam, Sri Lanka, Somalia, Tajikistan and Yemen. Rubaiyath is an Acumen Fellow from Bangladesh.
Rubaiyath blends learning with empirical evidence that he gathered from his engagement in market analysis, intervention design and implementation and evaluation. His, trainings are thus practical and solution oriented. The BMC tool kit developed by Rubaiyath is now featured in the MSD global tool with the BEAM Exchange. He led the seminal work of the BEAM exchange on 'Building high performance teams for market systems development.' Rubaiyath has coached and trained market development professionals in Bangladesh, Indonesia, India, Nigeria, Philippines and Tajikistan on market systems and value chain development. He trained professionals from South East Asia, South Asia, MENA and West Africa on using Business Model Canvas (BMC) as a tool to design inclusive and systemic solutions to poverty challenges. More recently, he coached more projects funded by the International Fund for Agricultural Development (IFAD) in the Asia Pacific region to use BMC as a tool to pivot business models to tackle the challenge of the COVID 19 pandemic in agricultural value chains. He brings invaluable cross sector, multi-country and fragile market context experience that are provide depth and context to the learning experience.
How to apply?
Initiate dialogue with the trainer and set a schedule over zoom. or
To register please fill up the following form in this Link
If you have any query regarding the workshop, feel free to reach us at info@innovision-bd.com